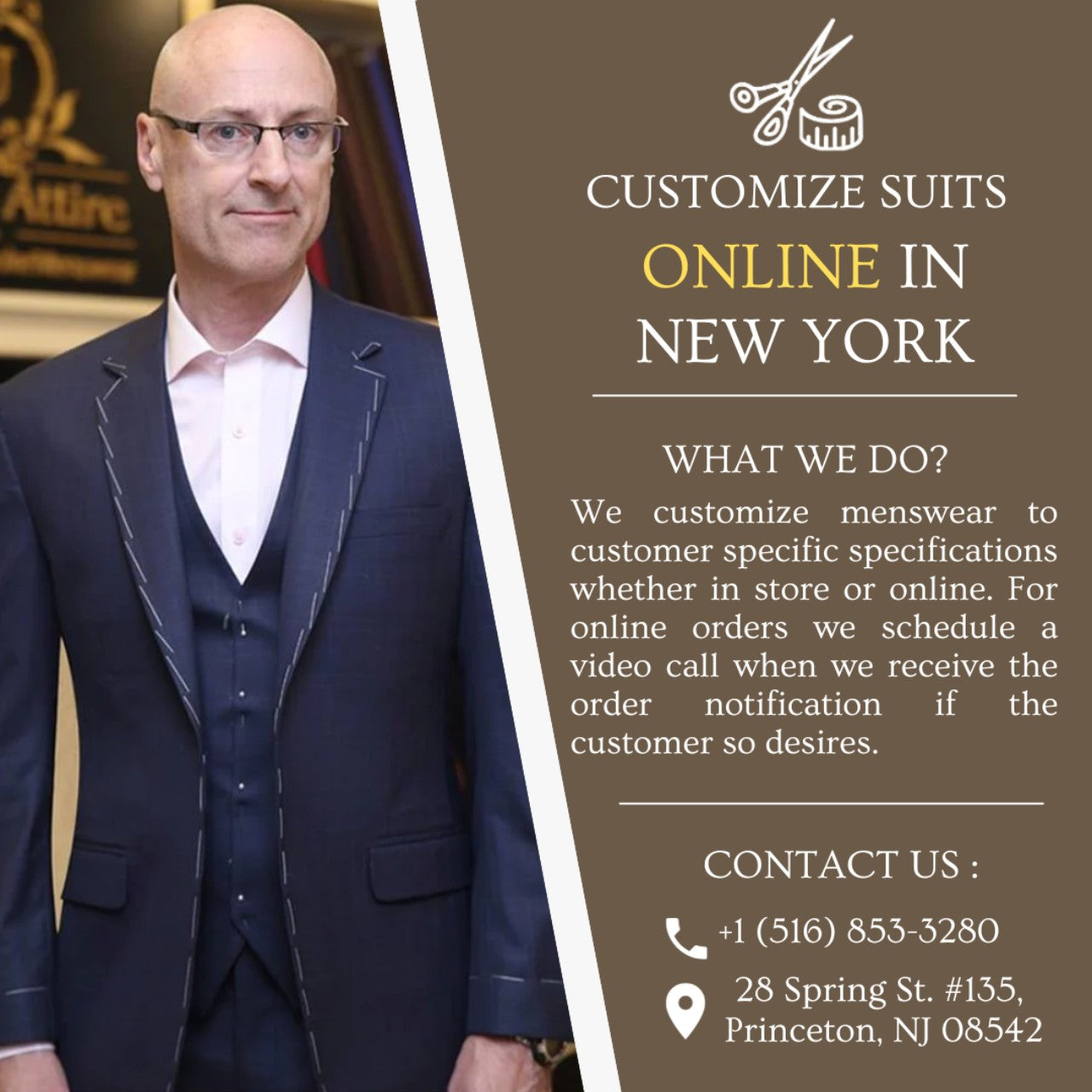 In New York's fashion-forward downtown, finding custom suits online that exude sophistication and style has never been easier. At Uomo Attire, we are proud to offer the finest bespoke tailoring to meet your sartorial needs in New York. We're here to help you discover a world of great fit, unmatched quality, and custom clothing that will elevate your style game in the fashion capital of the world.
Crafting the Perfect Fit with Tailored Suits NYC
When it comes to custom suits, the importance of fit cannot be overstated. Unlike off-the-rack suits, our tailored suits NYC are carefully tailored to match your unique body shape and style preferences. Our skilled tailors take precise measurements, ensuring your suit fits like a second skin. This attention to detail improves your posture, comfort and overall confidence.
Uncompromising Quality: New York Custom Suit Shop
What distinguishes bespoke suits in New York from their off-the-rack counterparts is not only the fit, but also the quality of materials and craftsmanship. We source the finest fabrics for our New York custom suits from renowned fabric mills around the world. Every element from the fabric to the buttons is handpicked to ensure unmatched quality and durability.
Our skilled tailors hand-stitch every seam and detail with precision, creating a custom suit experience that is truly unique and long-lasting. This level of craftsmanship makes investing in a personalized suit in New York a wise choice for those who appreciate craftsmanship.
New York Experience: Where Style Meets Versatility
In a city known for its fashion expertise, choosing custom-tailored clothing NYC is not just a style statement but an immersion in a culture that values individuality and beauty. New York City is a style epicenter, and our tailored suits let you be a part of this rich sartorial tapestry.

Our custom made suits are known for their versatility. Whether you're attending a formal gala, an important business meeting, or a casual suit, your bespoke suit will adapt to the occasion with ease. In the dynamic environment of New York, having a versatile wardrobe is essential, and our custom suits offer just that.
Why Choose Uomo Attire for Custom Suits Online in New York
At Uomo Attire, we offer an unparalleled custom suit experience in New York:
Unmatched Expertise: Best Tailors in New York
Our master tailors bring decades of experience and a deep passion for tailoring to the table. They are known for their expertise in creating custom suits that reflect your unique style and personality.
A Personalized Journey: Custom Suit Fitting NYC
We believe the custom suit journey should be as enjoyable as the final product. From the initial consultation to the final fitting, we ensure that your preferences and wishes are at the forefront of every decision.
Endless Customization: Personalized Suit New York
With a wide array of fabrics, styles and design elements at your disposal, you have the creative freedom to design a suit in NYC that reflects your individuality. Whether you prefer a classic look or a more contemporary style, we've got you covered.
Uncompromising Quality: Custom Suit Quality NYC
Our commitment to quality is unwavering. We source the finest fabrics and materials to create New York custom suits that are not only exceptional but also durable. When you choose Uomo Attire, you are investing in a garment that will accompany you on your style journey for years to come.
Elevate your style today: Choose Uomo Attire for custom suits online in New York
Your style is a reflection of your personality and desires. With custom suits online in New York, you can elevate your style and be a part of the city's fashion legacy. Master the art of custom tailoring, and let your wardrobe tell your own unique story. Your journey to sartorial excellence begins at Uomo Attire, your destination for tailored suits in NYC.