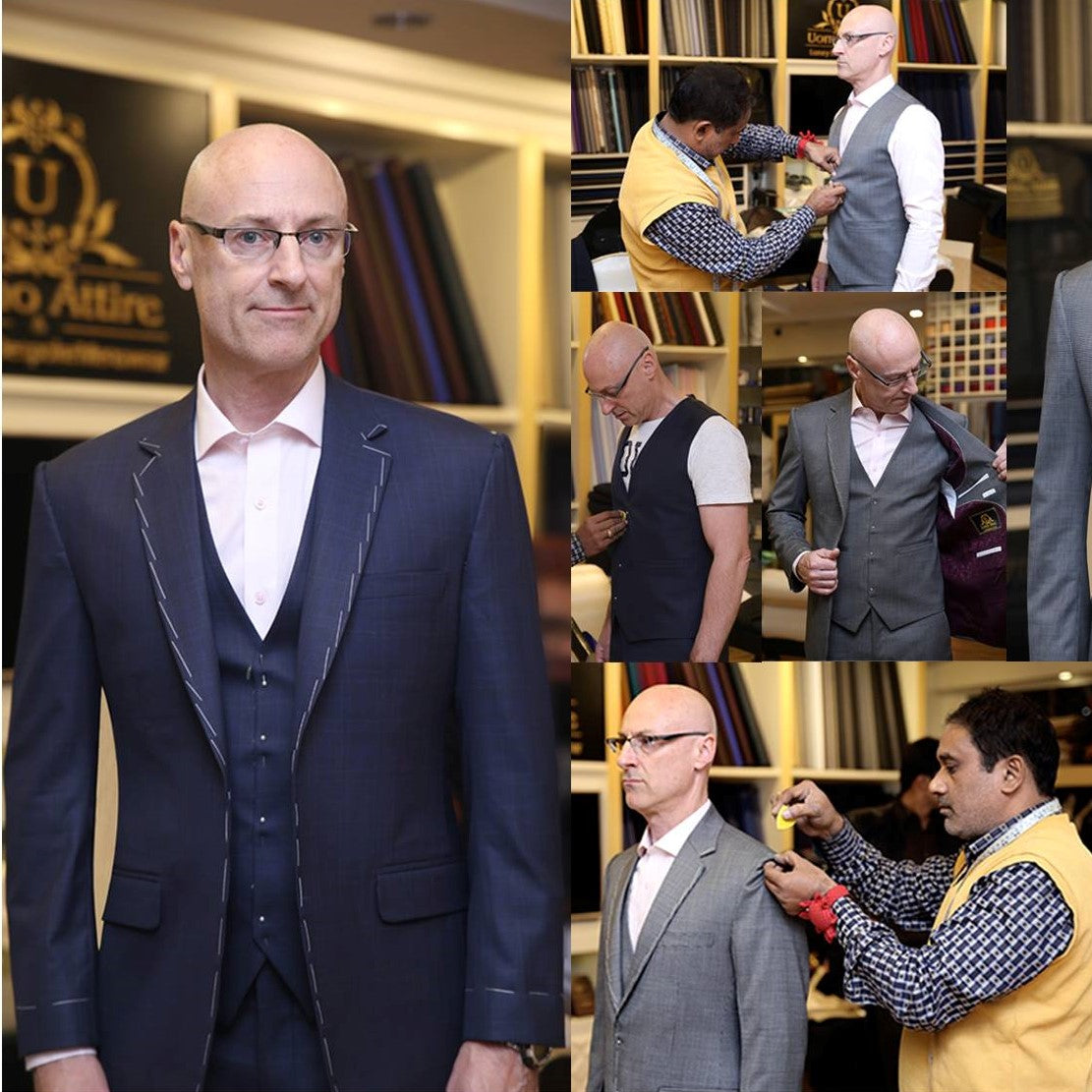 When it comes to formal attire for men, be it for business wear or a festive like weddings, there is a lot to choose from, like fabrics, colours, designs, cuts, etc. Every individual has a unique taste; everyone wants to present their best foot forward when in public, especially on a formal occasion.
Fashion trends have changed rapidly in the past couple of decades. People went from getting their clothes stitched to more readily available pieces to save time and money. However, many people care about what they wear and strongly prefer the look of a formal made-to-order outfit. It brings a sense of individuality to their personalities and makes them feel different from the rest. People who don't find time and budget for a personalized stitched outfit go for ready-to-wear clothes since it has become easier to add new numbers to your wardrobe with a limited budget in no time. It has also enabled people to mix and match pieces instead of getting individually designed garments.
There are numerous pros and cons of getting a ready-to-wear piece instead of a customized made-to-fit outfit, but the latter has a unique value of its own.
Made to Measure
Ready-to-wear attires are designed and stitched using an average size that fits most people. They are available at the outlets and can be worn as it is. Although there is room for alteration in these outfits, that can only be done in sizing, which is a con for those who would like to choose the colour, design, or cut.
Customized outfits, on the other side, are made for a particular individual. Nothing can beat the look of wearing a formal suit that is designed especially for you, according to one's body size and shape.
Design of one's own choice
Getting a ready-to-wear outfit has become the new normal for its convenience. However, there is little choice in fabric, colour, and design. These three factors are the ones that make an outfit stand out and make heads turn when worn at formal gatherings.
Whether it's a customized formal suit for men or a sherwani worn by a groom on his big day, custom-designed attires are always preferred by the people who are fashion conscious and love to invest in how they present themselves.
Flexibility to choose a favourite fabric
The process of designing a garment starts with the choice of fabric. This step is crucial in making a garment that not only looks great but is also suitable for the occasion and comfortable to wear.
Ready-to-wear garments are pre-designed using a particular fabric. However, there is a huge variety of fabrics available in the market and even more colours that one can choose according to their liking. People who love to wear custom-made clothes take special care in selecting the right fabric for formal wear, especially for business gatherings and events like weddings.
Custom made stitching
The best thing about custom-made formal dresses for men is the personalized stitching. Although ready-to-wear dresses save time as they are already stitched and just need a little alteration for better fitting; they can't beat the look of an outfit stitched precisely according to one's size.
After the fabric is selected, an expert tailor takes body measurements and stitches a customized outfit that fits perfectly. Since these outfits are made individually according to one's frame, they are the top choice for formal gatherings. 
Sense of Individuality
One of the best things that come with made-to-order outfits is the sense of individuality. Custom-made outfits are imagined, designed, and created uniquely for an individual. They cannot be matched to a pre-designed outfit that was made for the masses.
Each individual has some preferences when it comes to attire. Some might like more trendy and fitted outfits while others might like a classic cut. Thus, a custom-made outfit offers you the opportunity to build the look that you have always wished for.
Customized made-to-order outfits by Uomo Attire
If you are someone who would like to create their own custom-made outfit, you are in for a treat! At Uomo Attire, we provide you with the luxury of designing the outfit of your dreams. With a vast collection of fabrics, colours, and designs, we are a pioneer when it comes to formal wear for men. Our tailors are proud to serve you with their expert skill of transforming fabric into custom-made outfits for individuals, exactly the way you like!