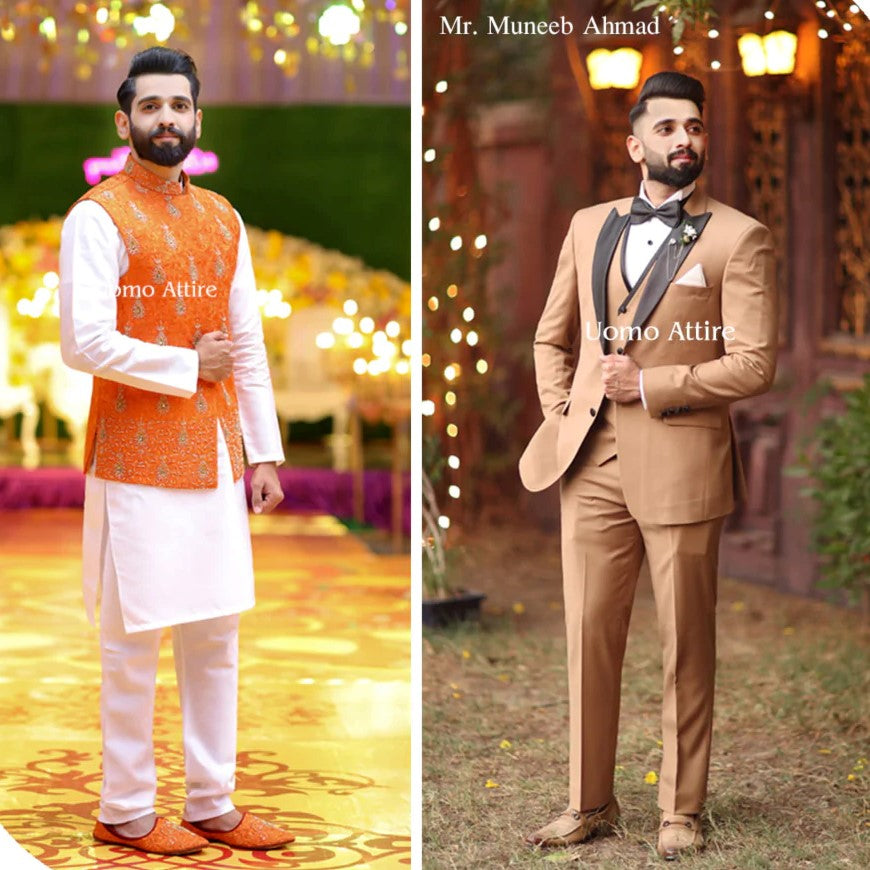 The days of pulling your one reliable suit from your closet to dress for a wedding are long gone. Nowadays, weddings can take place in a variety of settings and styles, so it might be challenging to choose an attire that is best suited for the event.
Likewise, grooms, who feel so much pressure to look their best for the wedding, have some style questions mulling over in their minds.
Today we will cover all your biggest style questions about men's wedding attire so that you're always the best-dressed man in the room, regardless of whether you're a guest or the groom.
Let's begin!
How to Choose a Wedding Outfit?
Well, you've undoubtedly attended a few wedding events when a formal suit and tie might be your finest option, but now modern weddings increasingly encourage more remarkable attires. Due to this, dressing 'guidelines' and 'rules' have become more ambiguous. Often, this leads to doubt among men regarding what constitutes decent wedding attire.
To deal with this confusing situation, we have simplified the dress code for each event you'll want to consider while choosing the perfect wedding outfit. 
The major events for an Asian wedding, as well know, are:  
Mehndi
Shendi 
Barat 
Walima
Let's have a look at the suitable outfits for each event.
Mehndi
Wedding outfits, such as shalwar kameez or sherwanis, are readily available in the market and can also be customized. At Uomo Attire, we offer both ready to wear options as well as made to other ones. Our fabrics come in a range of patterns and colors. There are many different suiting collections available, including kurtas with pajamas, sherwanis with churidar, embroidered kurtas with shalwars, etc. The majority of the grooms like to wear a sherwani or a kurta kameez for the Mehndi. 
Here is the link to the most elegant groom and guest attire for the Mehndi event that is currently in trend in our country. Explore today and choose the outfit that suits you best! 
Shendi
In Pakistani wedding tradition, shendi events are becoming increasingly popular. Shendi is the event where, on the same day, the exciting 'Mehndi' and the magnificent 'Barat' or wedding reception get combined.
Typically, the groom goes for a black, cream, or gold sherwani or prince coat. Some people will choose either more or less embroidery or select bold colors according to their personal choice.
Barat
The groom's outfits for Barat day are just as important as the bride's outfits, which are always of the utmost importance. There are several stunning wedding attire you must try, regardless of whether you are the groom, the groom's brother, a friend, or a guest.
Sherwanis, short sherwanis, and prince coats are some of the trendy Barat outfits you must have. Grooms usually wear sherwani with a turban and khussas, either readymade or customized.
Walima
It's an excellent choice to dress in a three-piece suit on the day of the Walima for the ultimate classy look. There are also many different alternatives to the suits that you can explore, such as tuxedos.
The most preferred color shades are black, grey, or blue. These colors can be contrasted with the gorgeous pastel tones of your shirts and ties. If you want to look more elegant and sophisticated, you can also wear a vest inside your suit.
Types of Outfits We Offer
For your special event, Uomo Attire provides you with tailored menswear within your budget. As per your choice, we provide you with the most premium range of men's attire at the most affordable prices.
The following is a list of our exclusive wedding outfits you must check out:
So, what are you waiting for? Head over and choose the perfect wedding attire or create your own customized one today!