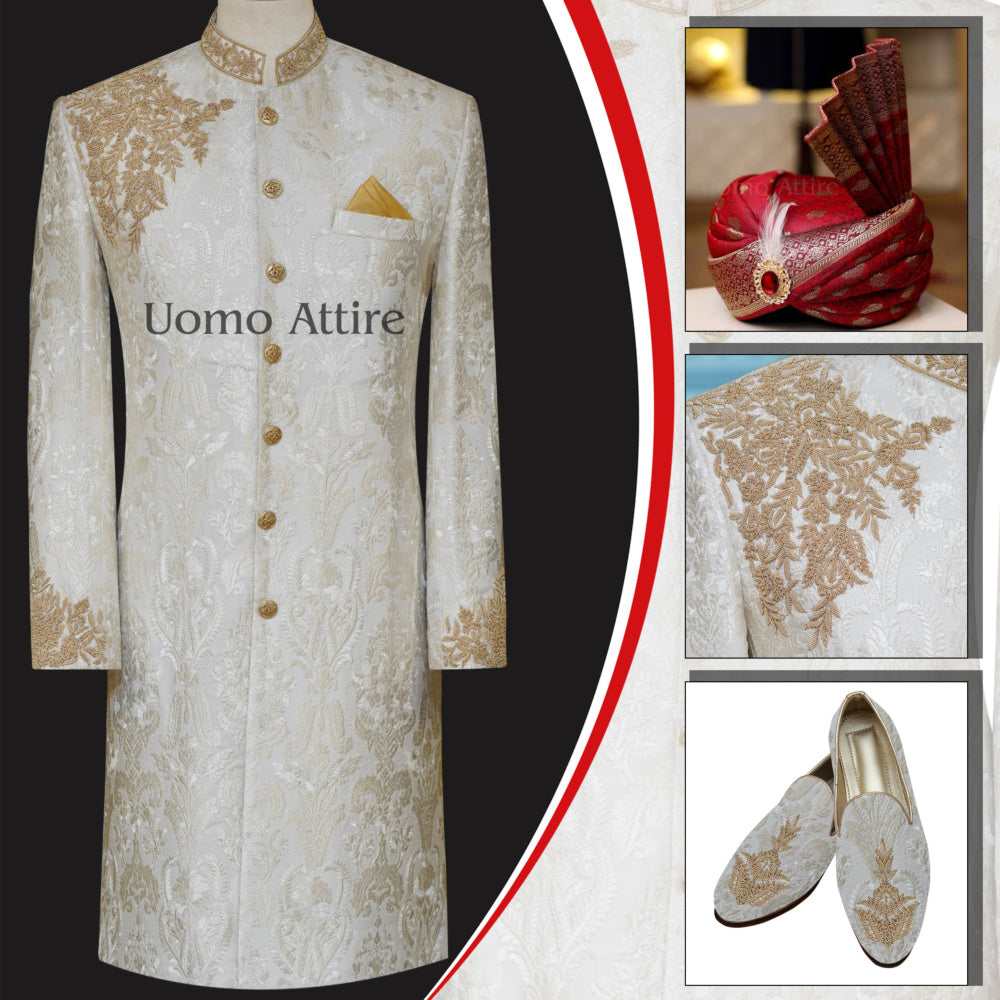 MENS WEDDING DRESSES IN PAKISTAN
Now adays weddings are not that simple as it was. It has become one gigantic happening of at least four to five events by impressive display of colors, designs. From divine nikkah ceremony to auspicious mehndi event and the glorified baraat to valima celebration, every moment of each occasion holds special significance. For all these occasions wardrobe selection can be difficult as you need something stunning yet elegent and unique among all. For all ''grooms to be'' who are worry for shopping of their wedding or how to make memorable outlook for each day,
We are here for solution by so many options with ease plus class that you could stand out in a crowd with your alluring appearance and debonair outlooks.
NIKKAH CEREMONY
From quite some years, nikkah is getting separate from wedding day. It becomes part of mehndi function or completely separate occasion before wedding. This event is the most special due to its religious value. Groom may go for an incorporation of eastern Sherwani and western suiting styles that bring one iconic piece on this important moment of his life. Prince coats are in the game for quite some time and by the passing year; these are getting more popular, refined into defining new and unique dresses.
You can try the eminent Jhodhpuri style and can vary length of a coat as per your liking. Prince coats are available in medium to rich embroideries that gives an amusing fusion of all.
MEHNDI FUNCTION
WAISTCOAT
Waistcoats are not new in Pakistan. Although it is part of our traditional dressing, but now adays it is becoming a fashion statement. From the ramps of fashion walks to wedding functions of Pakistan, men styling themselves with waistcoats. With no doubt waistcoats over Shalwar Kameez or Kurta makes a perfect mehndi outfit for men. Archetypal in style and ethnic in essence, waistcoats for grooms bring sheer elegance to their mehndi outfit. Unlimited choice in the fabric types, colours and designs of waistcoats are available for the groom.
Pure jamawar waistcoats either self texured or embelleshed coupled with the light colored dress underneath put grace to the groom. However, you may also try to pair it with bold shades.
Kurtas with Colored dupatta
To bring life to your mehndi outfit, you can pair your kurta shalwar or kurta pajama dress with a colorful dupatta. Chunris or plain colored dupattas tend to complete your outlook and give depth and dimension to your attire. Usually groom tries to match it with bridal dress. Green, red or mustard with white kurta, ivory, and silver or golden with black kurta, you can create any spark to your outfit based on your preference and theme. It is good to go for fancier chunri with plain colored kurta and simple dupatta with richly embroidered kurta shalwar.
FOR BARAAT
Now the most awaited day has come. There is nothing best and evergreen than sherwani . It is traditional, classic, ethnical yet stylish outfit for the groom on his special occasion. It is always "in" and finest option at baraat. It can be worn with kurta shalwar or kurta pajama. You may go for classical off white embroidered sherwani with same embellished khussa and turban, or can look bold with other different colors like black or navy blue with brooch and same fabric saleem shahi and turban. It always gives you royal and real prince charming look.
VALIMA RECEPTION
Three Piece Pant Suits
Pant Coat suits is one of the best choices for valima ceremony. It gives neat, classic and fine manly look, with an unconditional grace which can enlighten the ambiance around you. There are plenty of options you can try with variant cuts like the American, Italian or the English. Different color combinations with same or contrasted shoes are available. If you go for brown, black or grey than you can contrast these shades with exquisite pastel hues of your shirt and tie. A vest inside will give you more formal and proper look at your valima reception.
Vest Suits